K.S. writes: I have a coin that I would like a bit of information about. It is silver and has the words -VN-Balboa- on one side and Repvblica de Panama on the other side. Could you tell me a bit about it? Thank you-
The coin is a One Balboa from Panama.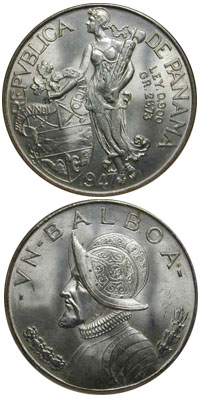 Notice the stylization of using the Roman "V" in place of the English "U". These silver dollar size coins were produced from 1931-1953 in .900 fine silver (.7735 oz pure silver) and were minted at the Philadelphia Mint. From 1966-1984 they were minted at the Royal Canadian Mint and the private Franklin Mint and were sold in various metals and strikings as commemoratives or as contrived collector issues.
Smaller denominations were struck on the identical silver blanks used for U.S. quarters and half dollars. The one Balboa's were struck on blanks similar to U.S. dollar blanks prior to 1935 (The last year that a U.S. silver dollar was produced for circulation).
Values depend on grade but these often trade near silver bullion value in the market.
1/4 Balboa – approximately US $3.25
1/2 Balboa – approximately US $6.50
1 Balboa – approximately US $13.
The above prices are for average circulated pieces dated 1964 and before. After 1964, only half balboa's contained silver but at a lower fineness (40% instead of 90%) until 1970. Circulation one Balboas ceased production in 1966 (A Royal Canadian Mint issue) This parallels U.S. coinage standards in this era. Standard copper-nickel issues are worth face value (US$=B1)
It is rumored and probably true that when the dies for the various Panamanian denominations were surrendered by the Philadelphia Mint, some were subsequently stolen and after a time coins appeared struck with these dies in various metals. I have seen some of these concoctions minted in low grade gold (probably 10K fineness or less). The stories surrounding the coins of Panama actually make the coins even more fascinating to collect.