Donna H. writes: My question is regarding not a coin, but a token. These are about 2 times the size of a silver dollar and brass. They were issued during the gold rush days and appear to be tokens given or won in a gambling or drinking establishment for exchange for sexual entertainment. A few have the state such as, Nevada. I have 8 or nine of these tokens. Some have the establishment name and what they may be exchanged for. Are they worth anything other than funny conversation pieces?
These are modern brass fantasy pieces but the legends were copied from the much smaller genuine merchant and bawdy house tokens. The originals were made in gold colored brass, nickel or bronze.
Brass Checks, as they were called, were used as currency in the Western United States from as early as 1840. The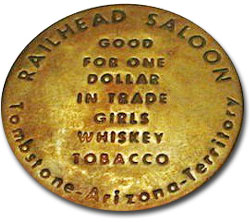 traditional custom involved three roles, that of the girl, the "Madame" and the "boss". The customer would buy the tokens from the Madame. The usual rate was one silver dollar per token or six for $5. The token was used to pay the girl that the customer selected. The girl stored the token in an inaccessible container. In the morning all the tokens were turned in to the boss for an accounting.
As the law began to catch up to the west, tokens took on more subtle designs and legends and even more importance. The exchange of money was the defining action to whether an illegal act took place. In some places the token was often purchased from a madam, sometimes not even in the same location. The token was tendered to the bar keep. The customer would receive a drink and a numbered key. Since no money, not even the token changed hands with the girl, the law could be successfully circumvented.
The collecting of Bawdy House tokens is a interesting pursuit and traverses many eras (tokens are mentioned in the works of Epicurius of Ancient Greece). You may have modern "shells" but you may find this an excellent place to start your own collecting pursuit.