Edwin M writes: I recently found a penny that has the initials VDB on the rear and the date is 1909. Is this penny worth anything?
The initials V.D.B. were those of the designer of the Lincoln cent, Victor D. Brenner. There was a controversy over whether the initials should be so prominent or even on the coin at all. The initials were removed the same year creating varieties with an without the letters V.D.B.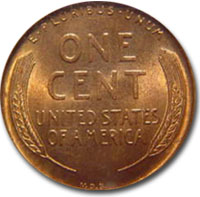 The 1909 V.D.B. Philadelphia issue (no mint mark) was heavily hoarded as first year issues often are. There were 27,995,000 struck. Circulated pieces are plentiful and are available for approximately $8-$10.
The rare and expensive issues are the 1909-S, 1,825,000 struck, and the 1909-S V.D.B. of which only 484,000 were minted. Note that the V.D.B. was restored in 1918 to the base of Lincoln's shoulder where it still remains today.