Katrina M. writes: I have a coin that I need to identify and would like to know an approx value. So far I know it is a Brazil 1812 960 reis, it is 8ct gold in a sealed plastic pouch, and is tiny! Is this a real coin or some commemorative type thing? The only date on it is 1812.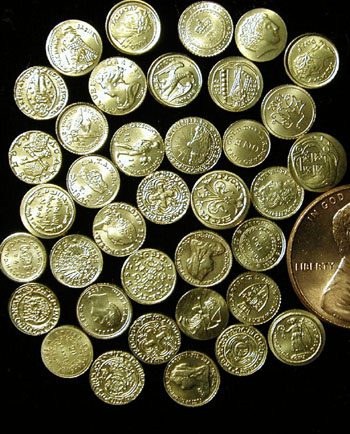 You have a modern made "miniature" of a Brazil 960 Reis. The original coin is the size of a silver dollar, was minted on .896 silver flans and weighs 26.89 grams. It was virtually the monetary equivalent of a Spanish 8 Reales or a U.S. silver dollar.
A few years ago, a private company manufactured and promoted miniatures of United States coins and of world coins. (See image at right). Some of these "mini" coins are minted in brass with a gold plating and others in 8-10 Karat gold (value in gold less than $1). These, of course, are not genuine coins and have no collector value (but they sure are cute so I guess they have cuteness value!).