Kris writes: I am writing from Canada. I have a coin that has SHIPS COLONIES COMMERCE on one side and a brigatine on the other side. It looks like an oversize penny, about 1 inch in diameter. It has no date or country, province, etc. on it. Could you tell me the value of it and where it is from?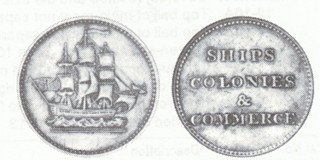 "Ships Colonies and Commerce" tokens were emergency money that passed as a halfpenny. The issue circulated primarily in Prince Edward Island between 1830 and the 1860's though they were also known in New Foundland and in lower Canada. The later pieces with a well defined sailing ship were designed by Thomas Halliday whose initial "H" appears on many varieties. An article in the January 1917 Numismatist , the monthly publication of the American Numismatic Association, by W.A.D. Lees, identifies 54 varieties of SC&C tokens.
There are also pieces that were struck by the New York firm of Wright & Bale. These tokens often show W & B N.Y. in exergue under the water line of the ship.
Values of these interesting pieces depend on type, variety and grade: Approximate value range: US $5 – 300.