Mike H. writes: Have you ever seen this picture before? It is a supposed bronze strike pattern of a "stella" $4 piece. Someone I met thru the internet says they found it with a metal detector in Florida. Someone else says that person is lying and that the picture was stolen off of another coin site and that the person is lying that is saying they found it. Just looking for some truth. Also, if the coin were genuine pattern in bronze…what would it be worth? Thank you.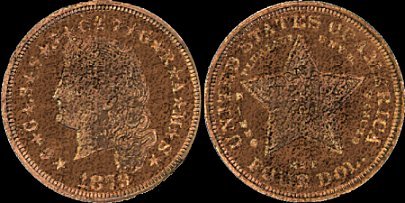 All 1879 Stellas ($4 United States gold coins) are patterns. The coin was never authorized by Congress and therefore was never a circulating medium. Stella patterns were made in gold, copper and aluminum.
All have a reeded edge. The coins were distributed to members of Congress to evaluate and most were never returned. This is the source of the pieces that still exist.
I can't tell from the image where it was found or even if it is genuine, but the story is plausible enough. I don't have enough auction price information do give you a current price but I would estimate the value at between $8,000 and $25,000.