Joan O. writes: 1884…one penny…woman seated on wheeled-chair..holding staff.. victoria D:G: BRITT:REG:F:D. What do I have?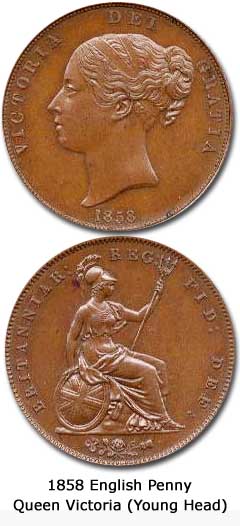 One of the most common questions received at the CoinSite are about English pennies. These coins seem to be a mystery because, unless you can read Latin, there seems to be no indication of the country of origin. From the time of about Charles II in 1660 to 1967, a representation of Britannia has graced the reverse of these half dollar sized coins.
The effigy of Britannia was probably inspired by the Roman coins of Hadrian and Antoninus Pius that were minted in the second century A.D. The British model seems to be a loose interpretation. Britannia allegorically represents the defender of Britain in a similar manner that effigies that grace most 18th and 19th century U.S. coins represent the defender of Liberty. The mid 19th century U.S. Seated Liberty design was certainly inspired by the English Britannia.
Your coin was struck under Queen Victoria (1837-1901) (Abbreviated Latin legend: VICTORIA D:G: BRITT:REG:F:D = Victoria by the Grace of G-D Queen of Britain and Defender of the Faith). The reverse shows Britannia seated on a rock, her right hand is leaning on a battle shield with the symbol of Great Britain. She is wearing a Roman Helmet and a loose fitting gown. In her left hand she hold a trident (symbol of the mythical King Neptune but also a symbol of the sea and sea power). Behind her, at her right, is a lighthouse and to her to left,a sailing ship.
Rarity and condition are the criteria by which the market judges coins. In average circulated condition an 1884 English penny brings about US $2. Uncirculated pieces (new condition) of this date bring about $25+.