F.R. writes: I have a Brasher Doubloon I found when I was just a kid. I have recently decided to do some checking on it to see if it is worth anything. It is dated 1787 and has EB on it's wing and Brasher under the sun and and R on the left under the sun. I think the coin is possibly made out of brass and may have some gold in it. Could this possibly be one of Robinson's copies? I am very interested in learning more about this coin. If you have any information please let me know. Thank you.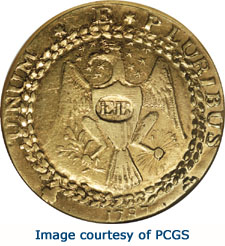 This was a pattern made by Ephraim Brasher, George Washington's neighbor and friend. Brasher's 1787 Doubloons were essentially patterns or proposals for coinage. This is probably the most important of all American coins. There are three designs, 1. the 1787 "New York" Doubloon with Ephraim Brasher's Initials on the reverse eagle's wing (EB) and the New York motto, NOVA EBORACA COLUMBIA EXCELSIOR; 2. a unique 1787 "New York" style with the EB punch on the eagle's breast (see image, this page) and 3. two specimens dated 1786 and based on the design of the 1742 Spanish Colonial cob Lima 8 Escudos. There also exists a unique 1787 New York half doubloon which is currently housed in the Smithsonian Collection in Washington, D.C.
The doubloons were the equivalent to $15 in New York Currency. They were minted on gold flans and weigh about 408 grains or about 3/4 troy ounce of gold (a troy ounce is 480 grains).
Brasher Doubloons are very rare but didn't receive the attention they deserve until the 20th century. In January 2014, an example of the "punch on wing" design (graded NGC MS63) brought $4,582,500 at public auction. The unique "punch on breast" example (graded NGC MS63) is currently valued for over ten million dollars. The same piece, originally from the Garrett collection via John Hopkins University brought $430,000 in the early 1980′s (then a record price for a coin).
Counterfeits are imitative and therefore would have been struck on a gold flan. If not, it is a brass copy. There are no known contemporary counterfeits. There would not have been any gain from such an activity. At the time, the coin was not a circulating media and its only value was its gold content. Brass museum copies abound and are not intended to fool anyone as they are the wrong metal and weight and the die work is different that that of the originals.
All the genuine pieces of which only a few exist, are 28.6mm in diameter and weigh about 26.6 grams. The composition is .917 fine gold. If you believe you have a genuine Brasher Doubloon, you should certainly have it authenticated. See the Links page under Coin Grading Services.