N.C. writes: I found a 1988 D, 100% zinc (no signs of copper at least), Lincoln cent. It still has all the images, but is a little scratched and could use some cleaning. I got it as change somewhere in the last month or so. I definitely see the need to clean this and know its showing some wear, but from the pictures I sent can you give me any idea whether the coin is worth keeping? If it is, how do you recommend cleaning it up properly? Thanks in advance.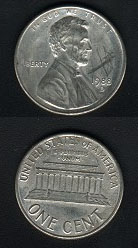 All Lincoln cents after 1982 are pure zinc with a copper plating. Your coin is missing the plating layer. Error collectors buy these coins at a premium. In the condition of your specimen, considering the damage, the market value is about $2. Cleaning the coin would render the value zero.
See the CoinSite Feature What's it Worth? to see approximate market prices for errors. See the "Lamination Errors" Table for more errors including other coins missing layers of metal.