Regina R. writes: I have a 1955 s "error" lincoln penny, but i can't find reference to it. the date is not double die, but the reverse is. The obverse, maybe? I'm no expert, so I'm e-mailing a photo.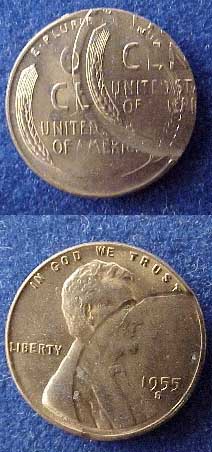 You have a copper Lincoln cent that shows a multiple strike on the reverse. This was caused by the coin not being properly ejected from the coin press and then struck again but this time outside of the collar that holds the blank in place when it is struck. The damage on the obverse was caused by the partial reverse second strike.
This is very different than a "double die" where the die is manufactured improperly and has a doubled image. Each coin struck from a double die has the identical defect. Multiple strikes are unique. Approximate value: $25-$35.