Kinah writes: I have a silver certificate 1899 Lincoln &? My grandfather gave it to me, what kind of value does it have? Thank-you.
The series 1899 One Dollar Silver Certificate, called affectionately, The Black Eagle, is the second most common large size note. The Eagle of the Capitol shelters the portraits of Lincoln and Grant. The Lincoln portrait is taken from a photograph by Anthony Berger. The note was printed from 1899 into the 1920's and was replaced by the 1923 series note.
Because of the long run, there are many notes available. There were various small design changes during the life of this series but the easiest way to date the note is by the signature combinations. There are no real major rarities among the signature pairs but the first issue, signed by Lyons-Roberts and the Napier-Thompson signature pair are scarce.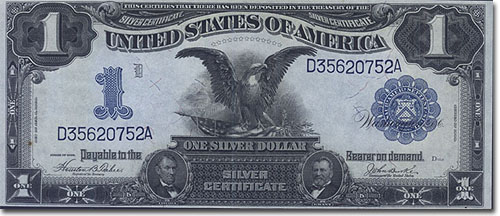 About 3.2 billion notes were printed. Many uncirculated examples exist and are regularly offered for sale at shows. It is a popular design both now and at the time the notes were issued. That may be the reason that so many survive. Values range from: $15 to about $750, depending on condition, type and signature combination. Star notes exist but are very rare.