Chris writes: I have a 1732 Copper New Penny or so the desription says. I have been looking for it all over but I can't find it on the internet. I was just wondering what the value of it is? The desription says it is a duit similar to the ones used by the dutch and it is the original New York penny. On one side it has a "v" and the left line has an "o" over it while the right line has a "C" over it. On the reverse it has a looks like a shield under a crown. It is in pretty good shape it is readable, except for a little worn and dirt it looks like (may not be because it is copper). What is the value of a coin like this?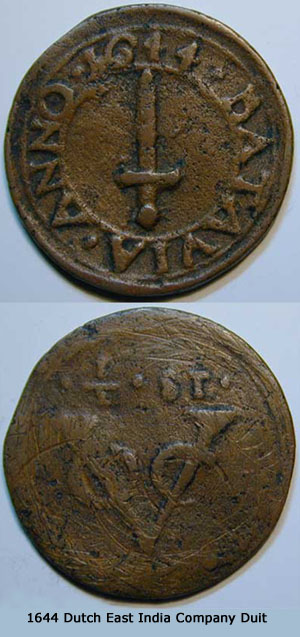 You have duit from the Dutch East India Company, a private trading company established in 1602 to trade with Asia for goods such as spices and silks. By the mid-18th century, it was the equivalent of a modern conglomerate, with trading establishments from the Persian Gulf to the Indian Ocean and the China Sea. These coins use a "balemark" to identify pieces. Generally they show a heart usually containing the initials EIC or VEIC (United East India Company).
Duits are found worldwide and often in large numbers in shipwrecks. Though this is a base metal trade coin they were readily recognized and accepted in most places in the 18th century world. By the end of the 18th century, withering under the ongoing British domination of the oceans, the Dutch East India company ultimately failed, finally declaring bankruptcy in 1794.
Value range: $2 -$20.